"The Mighty Iguazu Falls", that is the title of the international article published by the BBC Travel chain. And it affirms: "Visitors can experience the power of the water first hand, thanks to walkways above and below the cascades".




The Spanish newspaper El País was in the Iguazu Falls National Park, fascinated by the Lower Walk and its proximity to the waterfalls, surrounded by tropical forest ... The walk ends with a "dip" in the Bossetti Falls, the undisputed star for lovers of great experiences.




Devil's Throat or flight of angels? "The latter, I decided, as a resplendent rainbow fleetingly spread its wings over this symphony of sight, sound and diving swifts, then dissipated in a blink".  The travel and leisure magazine Wanderlust delivers a close and personal experience of the highest and most powerful fall.




ABC News chose the Iguazu Falls National Park to emphasize the importance of this natural area - vital for the planet - and captured the most impressive images. @GMA reporter, Ginger Zee, describes her experience as a "deep connection" with nature and refers to the importance of the Atlantic forest for the balance of its species and for the whole world.

Meeting the immensity of life in an extraordinary and unexpected way that inhabit the natural environment." This is how the English newspaper Financial Times described its experience in the Iguazú National Park.






Condé Nast Traveler offers travel tips to make "The Most Memorable Experience" inviting you to try the rainy seasons and 
to stay more than one day in the Park


Impressive, fierce, one of the true natural treasures of the world ... This is how Expedia.com defines the Iguazu Falls National Park
According to CNN, the Iguazú Falls should be on your list of places to visit because they are incomparable

---
---
Let´s awaken all our senses with the Encyclopaedia Britannica and its wonderful audiovisual material

---
---
"A vengeful god gives the devil his most dramatic drink." Thus begins the note of the World Wildlife Fund in reference to the famous Devil's Throat. The readers of his site ranked Iguazú in the position N ° 8 of the places that one should know in the world
---
---
The prestigious newspaper The Guardian invites you to make a unique visit to have a magical contact with the jungle in Iguazu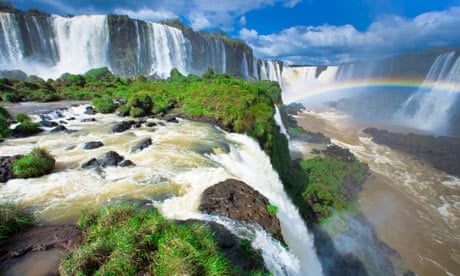 ---
---
Incredible aerial view of Devil´s Throat published by the National Geographic!
---
---
The National Geographic and Gonzalo Azumendi surprise us, with this fabulous aerial shot of the Falls
---
---
The World of Waterfalls positions Iguazú in the first position worldwide in size and beauty
---
---
Iguazú National Park, one of @visitargentina's bucket list destination. Stay tuned